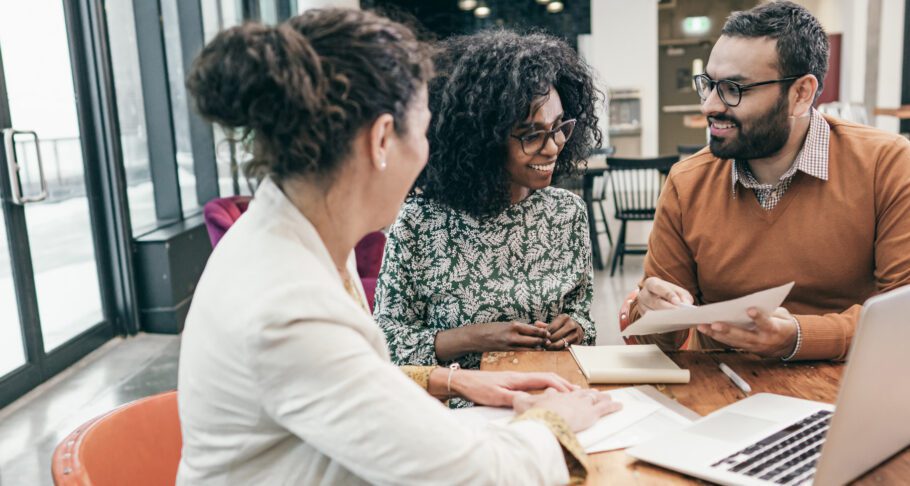 Open Enrollment Prep
November 2, 2022
There's a lot that goes into open enrollment period each year. Helping your employees understand every aspect of this short, but important time frame can be a big job!
It helps to do everything you can to ensure your team feels confident and ready to make decisions during open enrollment. Here are a few things to keep in mind as you prepare.
Why is open enrollment important?
Your company stands to gain a lot from programs like voluntary benefits and supplemental health. When you offer good employee benefits, it will be easier to both attract new talent and retain the employees you already have — saving costs and creating a highly skilled workforce.
Glassdoor reports that almost half of U.S. workers (48%) said benefits and perks motivate them to apply to a certain job. 44% of employees say that a company being transparent about benefits helps them decide whether to stay long-term — for example, 63% of employees look for details about benefits in job ads1.
Benefits are especially important in today's workplace climate. With so many employees working from home, they may struggle to stay engaged, which is where virtual benefits education and enrollment come in. Supplemental health insurance can also help employees manage the cost should they or a loved one be diagnosed with COVID-19.
Offering good benefits is important to your company's bottom line because top-tier employees will want to work with you. And open enrollment is the time of year when you communicate your benefits offerings to your team.
Employee burnout is increasing.
If your employees seem increasingly stressed or burned out, they aren't the only ones. Gallup conducted a State of the Workplace report that indicated stress among employees was at an all-time high in 2021. Only 21% of employees are engaged at work, and just 33% of employees are thriving in their overall wellbeing2.
For you as an employer, this means one thing: Focusing on your employees' health and wellbeing is more important than ever before. Your employees are people, too. They deserve good health care coverage that will help them feel less stressed. And remember, you'll reap the benefits, too — happy employees are 12% more productive3.
Use these tips to prepare for the upcoming open enrollment period so you and your employees can work together to find the best options for them.
How to prepare for open enrollment
Communicate the basics of open enrollment to your employees so they'll know what they're getting into. You should be able to concisely explain the following FAQ's in a way that is easy to understand.
What is open enrollment?
Open enrollment is a time period when employees can change their benefits if desired. Employees can communicate with their employer about available options for benefits like health, dental, and life insurance. If an employee wants to make any changes to their plans, open enrollment is the right time to do so.
When does open enrollment take place?
Most employers have an enrollment period of 2-4 weeks. Make sure to give your staff plenty of notice so they'll be prepared whenever your enrollment takes place.
Where can I learn more about open enrollment and my options?
It's your responsibility to give your employees any relevant open enrollment resources they may need. Provide them with plenty of materials that explain their coverage options so they'll feel well-prepared to make any desired changes.
Voluntary benefits and supplemental health
Voluntary benefits and supplemental health can be confusing. But if you want to be a sought-after employer, offering voluntary benefits and supplemental health insurance can help your company look more attractive to potential employees.
Voluntary benefits
Voluntary benefits are services or products that you offer employees at a discounted rate. Employees pay for voluntary benefits through payroll deductions. These benefits enrich the total employment package you're able to offer.
Some voluntary benefits are health care related. Others might not be. All voluntary benefits are optional employment perks. Cash benefits go straight to employees (not to doctors or hospitals) to be used for any purpose — deductibles, co-pays, treatments not covered by traditional insurance, or even non-medical living expenses.
Examples of voluntary benefits that were popular among employees in 2021 include4:
Travel Insurance for health care coverage
A health savings account (HSA)
Other types of voluntary benefits could include personal benefits such as car insurance or even security-related offerings like identity theft protection.
Voluntary benefits matter to employees because they make it easier for workers to live well in all aspects of life — from physical health to financial health and more. Employees are more likely to seek the medical testing and treatment they need because they feel confident they'll be able to afford it.
Wellness benefits are especially helpful because they're applicable for preventive health screenings. These screenings may turn up health issues that employees were not aware of, but are now able to address.
The peace of mind that can be provided by voluntary benefits is invaluable.
Supplemental health
Supplemental health insurance is a frequent addition to an employer's overall voluntary benefits package. It can help your employees pay for out-of-pocket medical costs that insurance may not cover.
Similar to voluntary benefits, you may be able to offer supplemental plans at a group rate, and employees can often pay for their plans via payroll deductions.
Examples of supplemental health policies:
Critical illness insurance
Hospital indemnity insurance
Remind your employees that supplemental health is advantageous because of the potential for group rates and pre-vetted providers. These benefits can help fill in the gaps where major medical insurance might fall short.
Focus on employee priorities
Do you know what your employees want most? Microsoft's 2022 Annual Work Trend Index Report discovered that 53% of employees now prioritize their health and wellbeing over work6. This is why offering voluntary benefits and supplemental insurance can make you so attractive to employees.
If you don't know what is most important to your team, ask them! Survey your employees to understand where they're struggling and how your company might be able to help.
You should also analyze employee demographics information. Components like your employees' age, gender, and even your location will affect what benefits might be most valuable. Younger employees may appreciate student loan benefits while critical illness benefits could be more important for an older generation.
Once you've come up with benefits that will appeal to your employees, communicate those benefits all year long. This will help your employees stay in the know 24/7 so they aren't scrambling to make decisions at the last minute when open enrollment comes around.
At the end of the day, it's all about understanding what your employees want so you can help them achieve work-life balance — leading to better physical health, better mental health, and higher productivity and satisfaction in the workplace.
Get more strategies for open enrollment prep
Want to learn more about what you can offer your employees? Give us a call at (877) 266-7326. Our agents would love to help!
1. Glassdoor, Glassdoor Study Reveals What Job Seekers Are Looking For, https://www.glassdoor.com/employers/blog/salary-benefits-survey/
2. Gallup, State of the Global Workplace: 2022 Report, https://www.gallup.com/workplace/349484/state-of-the-global-workplace.aspx#ite-393248
3. Warwick, New study shows we work harder when we are happy, https://warwick.ac.uk/newsandevents/pressreleases/new_study_shows/
4. SHRM, Employees Want Voluntary Benefits But Don't Always Understand Them, https://www.shrm.org/resourcesandtools/hr-topics/benefits/pages/employees-want-voluntary-benefits-but-dont-always-understand-them.aspx
5. The Balance Money, What Is Supplemental Health Insurance?, ​​https://www.thebalancemoney.com/the-basics-of-a-supplemental-health-insurance-plan-2645664
6. Microsoft, Annual Work Trend Index Report, https://www.microsoft.com/en-us/worklab/work-trend-index/