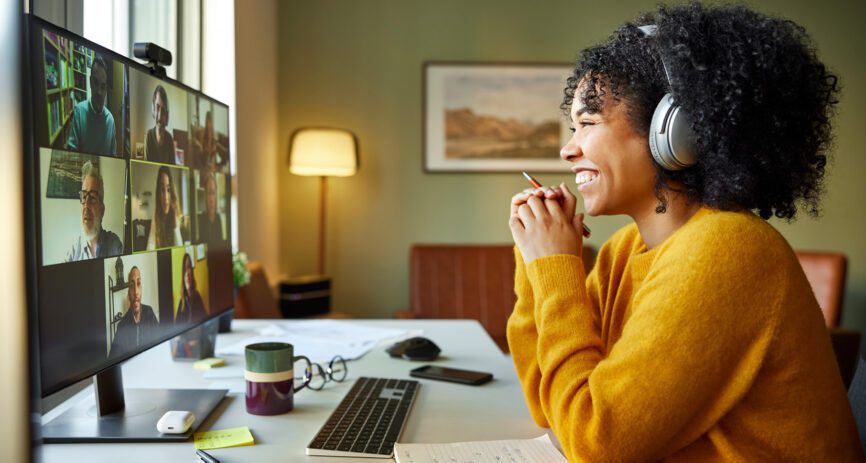 4 Examples of Insurance Technology for your Benefits Program
December 8, 2022
These days, you can buy groceries, do your banking and hold an important meeting without ever leaving the comfort of home. Digital technology has revolutionized just about every facet of life and has impacted nearly every industry—including insurance!

The digitization of insurance has made getting coverage and managing policies more convenient than ever, which is important for helping employees who are uninsured or underinsured get the benefits that they want and need. As you review your company's benefits program, consider these four examples of insurance technology that can help your employees make the most of their benefits.
1. Virtual benefits meetings
Traditionally, buying life insurance was a face-to-face experience between an agent and a customer at home or at a worksite, but COVID-19 changed that. When the pandemic hit in 2020, insurance agents were forced to adapt and meet their customers virtually via video chat.
Although society has opened back up, many benefits meetings are still being held virtually—and that likely won't change due to the large number of employees who work remotely or on a hybrid schedule. According to a study by Gallup, 53% of remote-capable employees expect a hybrid work arrangement going forward, while 24% expect to work exclusively remotely.1 This means that virtual benefits meetings are here to stay for employees who work from home (but in-person meetings are still an option for onsite employees!).
2. Online enrollment
Long gone are the days of putting pen to paper for benefits enrollment. State-of-the-art digital platforms streamline the enrollment process, allowing employees to view options on the computer, make selections and quickly return to work. Online enrollment is more secure, saves time and simplifies the process for employees.
3. Online policy management
One way to help ensure employees are satisfied with benefits is making sure their benefits are easy to use. With an online policy management account, employees can quickly take care of tasks such as viewing policy benefits and claims, requesting documents, and managing online payments that aren't covered by automatic payroll deduction. They can complete all of these tasks from the convenience of their computer without the hassle of snail mail.
4. Virtual benefits advocacy
Insurance can be confusing for employees, and most don't have the time or experience to research information on their own. Ongoing virtual advocacy can help employees gain a better understanding of their benefits. Advocates who are available via video chat, email or phone call can help employees make the most of their coverage by answering questions, resolving claims issues, finding providers and more.
Why go digital?
Many insurance carriers offer similar products, but not all offer digital technologies. When you work with a carrier that's equipped with modern insurance technologies, you'll:
Experience greater employee engagement before, during and after enrollment.
Increase employee satisfaction and retention.
Become an employer of choice known for competitive benefits in today's tight job market.
Get in touch!
Are you interested in learning more about how insurance technology can help improve your benefits program? Contact us to learn more!
1Gallup, The Future of Hybrid Work: 5 Key Questions Answered With Data, https://www.gallup.com/workplace/390632/future-hybrid-work-key-questions-answered-data.aspx, March 2022.