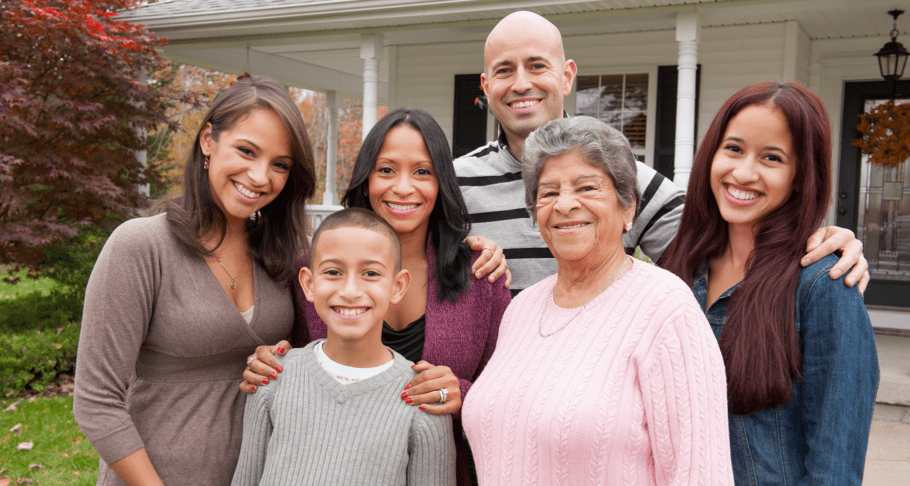 Life insurance in the Hispanic community: 5 things to know!
September 8, 2022
It's a busy time of year here at Washington National. That's because we're honoring two important celebrations: Hispanic Heritage Month and Life Insurance Awareness Month!
Hispanic Heritage Month runs from September 15 through October 15 and celebrates the generations of Hispanic and Latino Americans who enrich our nation and society. Life Insurance Awareness Month, observed during the month of September, educates people about life insurance and helps them make the right coverage choices. With both of these celebrations happening simultaneously, it only seems fitting to explore the importance of life insurance in the Hispanic community!
According to the 2022 Insurance Barometer Study by Life Happens and LIMRA, life insurance ownership among Hispanics is 41%, which is lower than any other race or ethnicity.1 Washington National is dedicated to serving the needs of Hispanic Americans, helping these customers secure the financial futures of their families. In order to close the coverage gap, here are five important things we'd like to share with the Hispanic community about life insurance.
1. Life insurance is important for replacing lost wages.
Many people buy life insurance with funeral costs and other final expenses in mind, but income replacement is equally as important. According to the 2022 Insurance Barometer Study, 48% of Hispanics say their family would face financial hardship within six months if the primary wage earner were to pass away, and 28% say would face hardship within one month.1
When a primary wage earner passes away, families often have to make quick, dramatic decisions at a time when they're still grieving. If the family can't afford their home and lifestyle without the lost income, they may need to quickly find more affordable housing or a new job. Life insurance can help give a family time and options—so they can adjust and make rational decisions in their own time.
2. Employer-sponsored life insurance may not be enough.
Thirty-five percent of Hispanics who own life insurance say they only reason they have a policy is because it was provided by their employer.1 Employer-sponsored life insurance plans are great because they're typically very affordable, or even free for employees. However, most people benefit from also securing their own individual coverage for two reasons:
Most employer-sponsored plans don't provide the total coverage to meet financial needs.
Most employer-sponsored plans aren't "portable," which means an employee loses their coverage if they change jobs or retire.
With individual life insurance, people can help meet their financial needs, with coverage they can carry no matter where they're employed.
3. Life insurance gives comfort that family can be taken care of.
According to the 2022 Insurance Barometer Study, 68% of people who own life insurance say they feel financially secure, versus 47% of people who don't own life insurance.1 With life insurance, people can enjoy time with their loved ones knowing that they won't be a financial burden on them—and that the future of their loved ones is secure. Life insurance gives people the opportunity to leave a financial legacy for their family to one day use for important things such as housing, education and retirement.
4. Life insurance can be affordable.
Life insurance is the simplest, most affordable way to help ensure security and peace of mind—but many people don't realize it! According to the same study, 68% of Hispanic Millennials overestimate the cost of life insurance, and 38% of Hispanics don't buy life insurance because they say it's too expensive.1 The reality is, people overestimate the cost of life insurance by about five times the actual cost!1 According to NerdWallet, the average cost of life insurance is $26 a month.2 Many people spend more than this each month eating out. Small budget changes can help make life insurance affordable!
5. Working with an insurance professional is helpful.
For many people, lack of life insurance education is a big hang-up when it comes to securing coverage. In fact, 26% of Hispanics say they don't have coverage because they don't know how much insurance they need or what type to buy.1
With many types of policies to choose from, varying benefit amounts, cash value options, and lots of fine print, we understand that choosing life insurance can be daunting. This is why we recommend working with an insurance professional to help you navigate the process. An agent or broker can help you assess your family and lifestyle, and calculate your financial needs and budget, so that you can choose a policy that works for you.
Washington National is here for you!
During this month and throughout the year, Washington National honors the history, heritage and accomplishments of Hispanic Americans. We also strive to raise awareness about the importance of life insurance among all individuals. If you have questions about life insurance—or you're ready to talk to one of our agents about a policy—we're here for you! Call us at (800) 525-7662 to get started.
1LinkedIn Live event, Addressing the Life Insurance Coverage Gap Among the Hispanic Community, https://www.linkedin.com/video/event/urn:li:ugcPost:6943626134160867328/, July 2022.
2Nerdwallet, Average Life Insurance Rates for August 2022, https://www.nerdwallet.com/article/insurance/average-life-insurance-rates, August 2022.