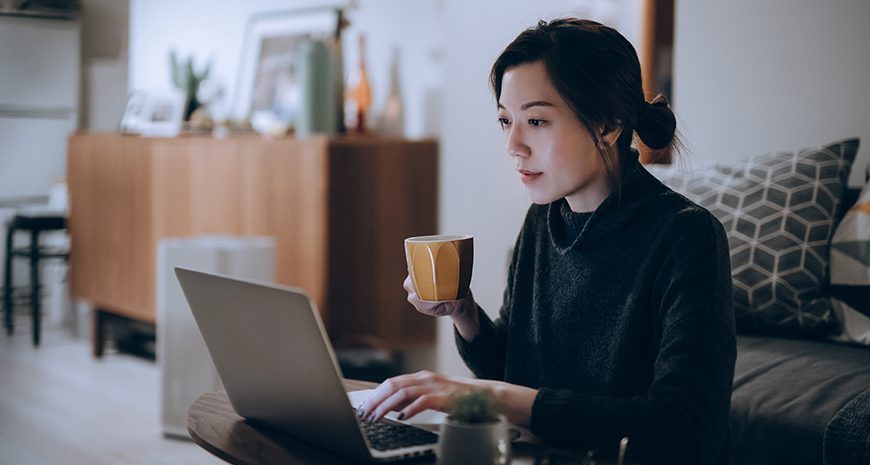 3 Tips for Keeping Remote Employees Engaged
While some aspects of life are returning to a pre-pandemic normal, others may never be the same again.
One enduring legacy of the pandemic is likely to be where and how employees work. Lockdowns meant many employees began to work remotely from home, and according to studies, many employees want to keep it that way. According to Pew Research, given the choice, more than half of employees who work from home want to keep working from home even after the pandemic.1
Onsite, remote, or hybrid. How will your employees work?
With communities opening back up, employers have to make a decision about where and how their employees will work moving forward.
Some employers believe having employees onsite full-time increases productivity and creates better workplace culture. Other employers have the opinion that the flexibility of remote work enhances employee morale and retention. Still, many other employers see it from both sides. According to a recent study, about 70% of employers plan to move to some form of hybrid working where employees are onsite and remote certain days of the week.2
How to keep remote employees engaged
If you're one of many employers with fully remote or hybrid employees, one challenge you may face is keeping your work-from-home employees engaged. Engagement means employees have an emotional commitment to your organization and its goals. Your employees aren't just working for a paycheck, but rather personally care about their work and the company.
Fortunately, you have many options for fostering engagement among remote employees, including these 3 ideas:
1. Set up a "virtual watercooler" platform
Your company may use several mediums for business-related communication, such as phone, email and video chat. But you should also consider a virtual watercooler platform where employees can engage with one another about topics that aren't directly related to work. A virtual watercooler can provide the missed opportunities of working remote with collaboration, socialization, and spontaneity.
This digital platform promotes frequent communication and transparency with casual conversations over coffee or lunch breaks to help stay connected with your employees on a personal level. Here, your employees can chat as they would in a regular office environment about their lives, movies they've watched, current events, etc. It's important to remind them to practice physical distance, but not "social distance."
2. Offering Flexible Schedules
According to a recent study of more than 200 HR leaders, 80 percent reported an increased focus on flexibility for employees—the single biggest change to organizational culture since the onset of the pandemic.3 Show appreciation by offering additional time off or flexible schedules to increase overall employee wellbeing and work-life balance.
In a virtual world when the home becomes the office, it might be hard to determine when the workday ends. Help your employees create a positive work-life balance by creating boundaries to show you understand their needs and responsibilities outside of work. It is now harder to define a 9-5 work schedule with always being digitally connected through email or zoom.
To help employees stay engaged, make sure you encourage daily blocked time, so they can get fresh air, eat lunch with their family, or catch up on work. Flexibility promotes trust among your employees that they will deliver without being closely monitored.
When employees feel cared about in a positive work environment, they're more likely to go above and beyond!
3. Prioritize virtual benefits education and enrollment
Calling employees into the conference room for benefits presentations is a thing of the past when your workforce is working remotely. However, it's still important to provide your employees with competitive benefits, educate them on their benefits, and help them be confident about enrolling in benefits. Doing this can help boost employee engagement as 78% of employees are more likely to stay with their employer because of their benefits program!4
While we are working remote, it's important to show employees their employer cares. For example, provide positive resources, such as exercise, meditation, team building, etc. to help with stress and anxiety. It's critical to practice health care maintenance during this time by offering telehealth appointments from health care providers.
Washington National offers virtual enrollment solutions for remote employees. Our agents are equipped to provide employee benefits education and enrollment via video chat or phone call. No matter where your employees are located, we can help them prepare for the financial impact of unexpected illness, injury or loss of life.
We're here for your employees…wherever they may be!
Are you interested in learning more about our virtual enrollment solutions? Fill out this form to get started!
This past year has brought a new spin on how we work and live our life during a pandemic. For more information, share these tips with your employees on returning to work during the pandemic here.
1Pew Research Center, How the Coronavirus Outbreak Has—and Hasn't—Changed the Way Americans Work, https://www.pewresearch.org/social-trends/2020/12/09/how-the-coronavirus-outbreak-has-and-hasnt-changed-the-way-americans-work/, December 2020.
2Harvard Business Review, Don't Let Employees Pick Their WFH Days, https://hbr.org/2021/05/dont-let-employees-pick-their-wfh-days, May 2021.
3https://www.prnewswire.com/news-releases/in-light-of-covids-toll-on-workers-a-new-report-offers-six-recommendations-for-improving-employee-experience-and-organizational-culture-301389138.html
4Willis Towers Watson, Employees are more likely to stay with their employers when offered a group benefit marketplace, https://www.willistowerswatson.com/en-US/insights/
2018/08/employee-and-employer-satisfaction-with-group-benefit-marketplaces-survey-results, August 2018.