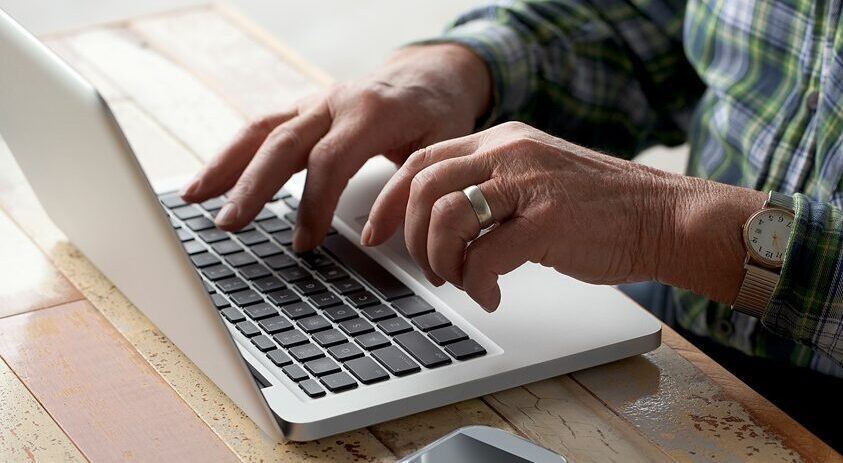 How to manage your loved one's digital legacy
When a loved one passes away, there are many matters that must be handled—all while navigating the difficult emotions that often accompany death. Planning the funeral or memorial, making contacts, handling the estate and taking care of the deceased's possessions are a few tasks that may come to mind.
Another to-do that you should add to your checklist is handling your deceased loved one's online accounts. Many people have dozens or even hundreds of accounts online that may need to be managed, and it's important to do so because idle accounts can become bait for scammers.
With so many websites out there, how should you begin? It may seem overwhelming, but we're here to help you manage your loved one's digital legacy.
Step 1: Get a list of accounts that need to be addressed
The first thing to do is get a list of all of your loved one's online accounts and passwords. Easier said than done, right? Unless your loved one provided you with a detailed list of information, it may be a bit of a scavenger hunt. Here are two places to start:
The deceased's phone: In the phone's password manager, you may be able to find many of your loved one's accounts and passwords.
The deceased's email account: Email tends to be a record of someone's life, showing correspondence from accounts registered to that email. The best-case scenario is you have your loved one's email password. But if you don't, you may be able to access content within the account through proper steps that follow federal and local laws concerning electronic communications and privacy. Find out what the email provider requires for account access and follow all steps to obtain access.
Step 2: Start closing, updating or memorializing accounts
Now that you have a list of your loved one's accounts that must be addressed, it's time to get to work. Depending on what the account is, you may be working to:
Close or cancel the account
Stop payment on the account
Memorialize the account
Each company has slightly different requirements for gaining access to your loved one's account. For example, you may have to provide a death certificate, your ID and information about the deceased. Search for each company's requirements to see what you need to do.
So, where should you start? If you have many accounts to deal with, it can help to prioritize them. Some accounts should be handled as soon as possible, while others can probably wait until later. Here's an idea of how you might prioritize the accounts.
Immediate priority
Financial accounts—banks, insurance, investments, credit cards, loans, payment services
Autopay accounts—streaming, subscriptions, utilities
Health record accounts—hospitals, doctors, telemedicine
Professional accounts—websites, portfolios
Email accounts—Gmail, Outlook, Yahoo
Later priority
Social media accounts—Facebook, Instagram, Twitter, TikTok, YouTube, Pinterest, Snapchat, Reddit
Blog accounts—Wordpress, Blogger, Tumblr, Squarespace, Weebly, HubSpot, Gator, Medium
Friendship & dating accounts—Meetup, OurTime, Match, OKCupid, Tinder, Bumble, Plenty of Fish, Hinge
Shopping accounts—Amazon, eBay, Walmart, Craigslist, Target, Etsy
Thinking about your own legacy
Managing your loved one's estate may have you thinking ahead about your future and the legacy that you want to leave. No matter how old you are, now is the right time to get your affairs in order and ensure your loved ones have all of the information they need to manage your estate. Keeping a running list of your online accounts and passwords could help your family avoid hassles in the future.
In addition, now is a great time to think about life insurance. A policy can help ensure that your final expenses are covered and your loved ones have a secure financial future. Life insurance premiums tend to increase with age, so there's no better time than the present to lock in a policy. For more information, contact us Monday through Friday at (800) 525-7662 between 8 a.m. and 6 p.m ET and an agent will be happy to help.